Hello, everyone! I'm SO excited to be apart of this tour! I saw the blurb for
Royally Lost
when it first came out, and I marked it on Goodreads as soon as I could. It sounds so interesting! Do you guys remember the movie
The Prince and Me
? That's the first thing I thought of when I first heard about this book. When I signed up for this tour, I knew I wouldn't have time to review it, so I only signed up for a guest post and excerpt (which is awesome, by the way), but I really hope I have time to read it later! I think you guys will really like it!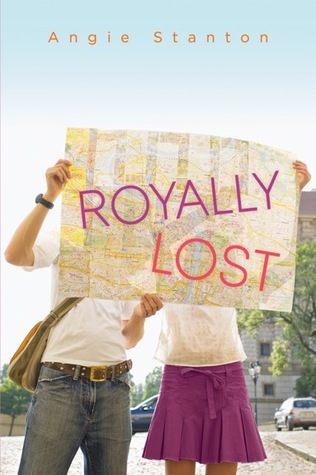 Royally Lost by Angie Stanton





Dragged on a family trip to Europe's ancient cities, Becca wants nothing more than to go home. Trapped with her emotionally distant father, over-eager stepmother, and a brother who only wants to hook up with European hotties, Becca is miserable. That is until she meets Nikolai, a guy as mysterious as he is handsome. And she unknowingly finds herself with a runaway prince.

Nikolai has everything a guy could ask for-he's crown prince, heir to the throne, and girls adore him. But the one thing he doesn't have...is freedom. Staging a coup, he flees his kingdom and goes undercover on his own European tour.

When Nikolai and Becca meet, it's their differences that draw them together. Sparks fly as they share a whirlwind of adventures, all the while dodging his royal guard. But Becca's family vacation ends in a matter of days. Will Nikolai and Becca be forced to say goodbye forever, will his destiny catch up to him, or will they change history forever?
Guest Post
Titles are one of the hardest things for me to come up with. Everything original and catchy has been used.
Bathing is optional. Okay, not optional, but a tad less frequent. When you work alone from home all day, everyday, on deadline, clean hair becomes less important.
Diet Pepsi, and occasionally Red Bull, get me through the day.
The best ideas come to me on long walks while listening to music, or car drives.
I always want to write about the quirky true-life stories of friends and relatives, but I'm too afraid they'd read it and hate me.
My work clothes can be worn day and night. Yes, I'm wearing my pjs and robe as I type this.
I stink at grammar and punctuation. I'm a storyteller, not an English major.
Thankfully, there are people who love to edit.
Deadlines are horrible. The pressure never ends until the book is handed in. That means I think about the story 24/7.
The very best part of writing novels is getting fan mail and meeting excited readers who love the books as much as I do. The next best thing is glowing reviews. So, thank you!
Thanks so much for hosting me on your blog today. I hope everyone enjoys reading
Royally
Lost
as much as I enjoyed writing it!
The hot sun burned down on Becca. "The lake is so clear I can see all the way to the bottom. I wish I'd worn my swimsuit."
"You could . . . you know," Nikolai said suggestively, looking at her shirt.
"I am not skinny-dipping, so you can wipe that idea from your mind right now."
"Look who's jumping to conclusions. I wasn't suggesting you skinny-dip." He delivered a sly grin. "What I was about to say is that you could swim in your underwear."
"Oh, but—"
"Ut."He held up a finger. "Let me finish. Your underwear probably covers you more than your bathing suit anyway."
Becca opened her mouth to speak, but then changed her mind. She knew he was secretly laughing at her.
"What? It's a great idea." He smiled devilishly.
"So, you're saying you'd strip down to your undies, right here, in broad daylight."
Nikolai stood and reached between his shoulders, pulled his T-shirt over his head, and dropped it at her feet. "You Americans are so uptight about your bodies."
Becca stared at his strong arms, lean physique, and flat stomach. He began to unbutton his shorts.
Her jaw opened. She wanted to tell him to stop, but even more, she wanted to see if he'd actually drop his drawers in front of her.
He did.
a Rafflecopter giveaway